The Crazy Online Connect Setup: We Tried Something Completely New!
One of our passions as the production department at Bethel is being able to come up with new ways of making people feel a part of the online expression of the church. So for this last BraveCo Men's Conference, we challenged ourselves to step out of our normal, safe, go-to Online Connect pre-service interview segment (formerly known as Backstage Pass) and to utilize the location to depict different aspects of masculinity.
Online Connect is a really important way for us to connect with our online congregants and answer questions, let them know what's happening, and actually be able to minister to them through their screens. They are normally shot in a studio on location at our church and are pretty basic setups, very clean and polished, and we have pastors directly addressing the online audience.
We were brainstorming for what to do for the upcoming men's conference and agreed that a clean and polished look for this conference would not be very engaging for men and would leave them feeling distant and separated from what's going on. So this led us on a journey of dreaming about what we could do with our set design that actually represents masculinity and invites men into the conversation rather than separating them.
Day 1
We had so many good ideas that we whittled it down to doing three setups, one for every day of the conference, each highlighting a unique aspect of masculinity. Day 1 was going to be the hosts riding on a Gator vehicle while interviewing each other. This segment showcased the importance of camaraderie, shared experiences, and fostering a sense of community among men. By engaging in fun activities and highlighting moments of laughter and connection, we will demonstrate the power of creating a supportive and joyful community.
Technically, this was a nightmare. We spent days figuring out how we could have multiple cameras on a gator while it drove around our property and wirelessly transmitted quality audio and video. Luckily, we have a team full of geniuses who worked it all out, and along with a lot of praying that the wireless didn't drop out, it actually worked flawlessly.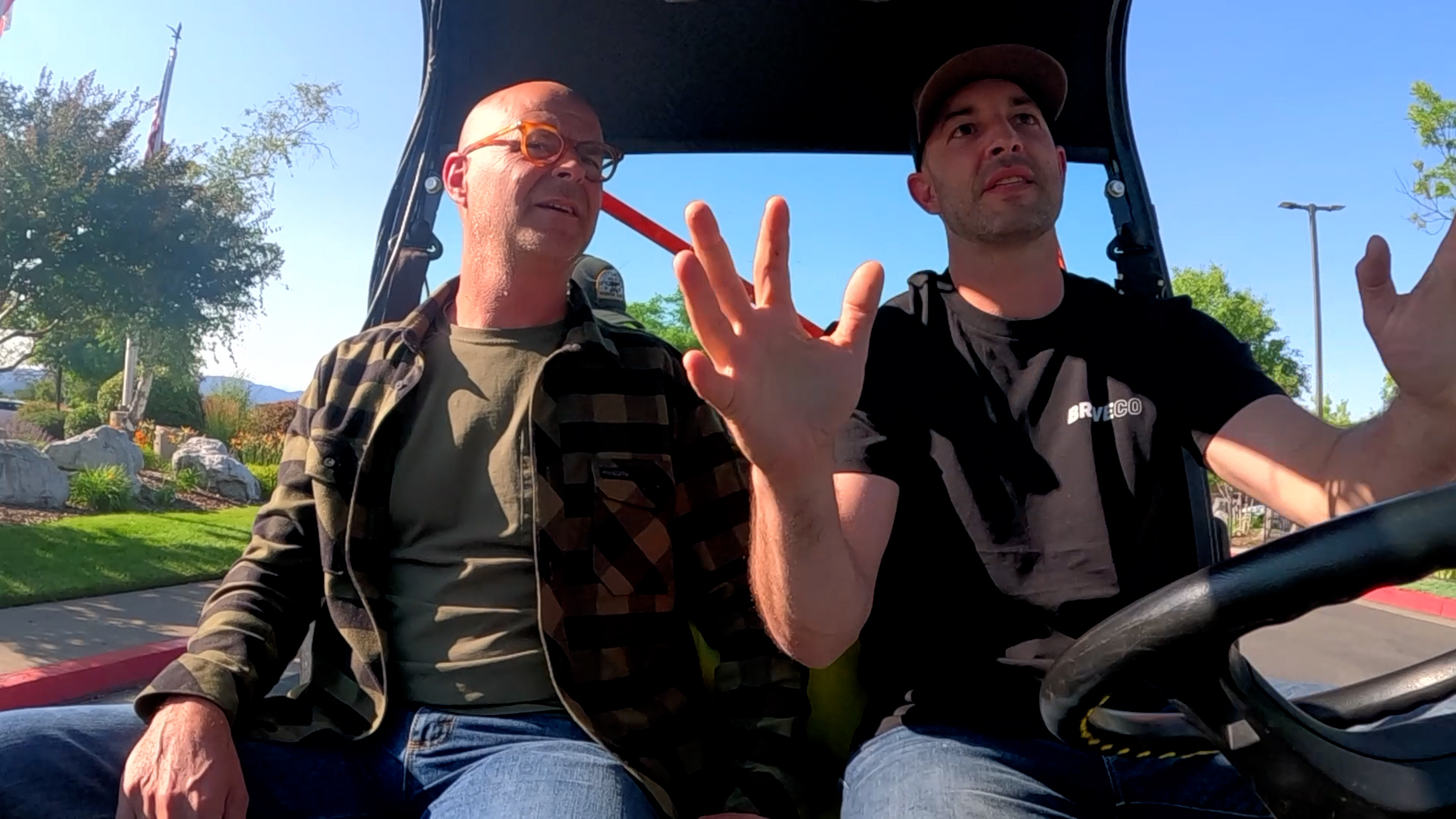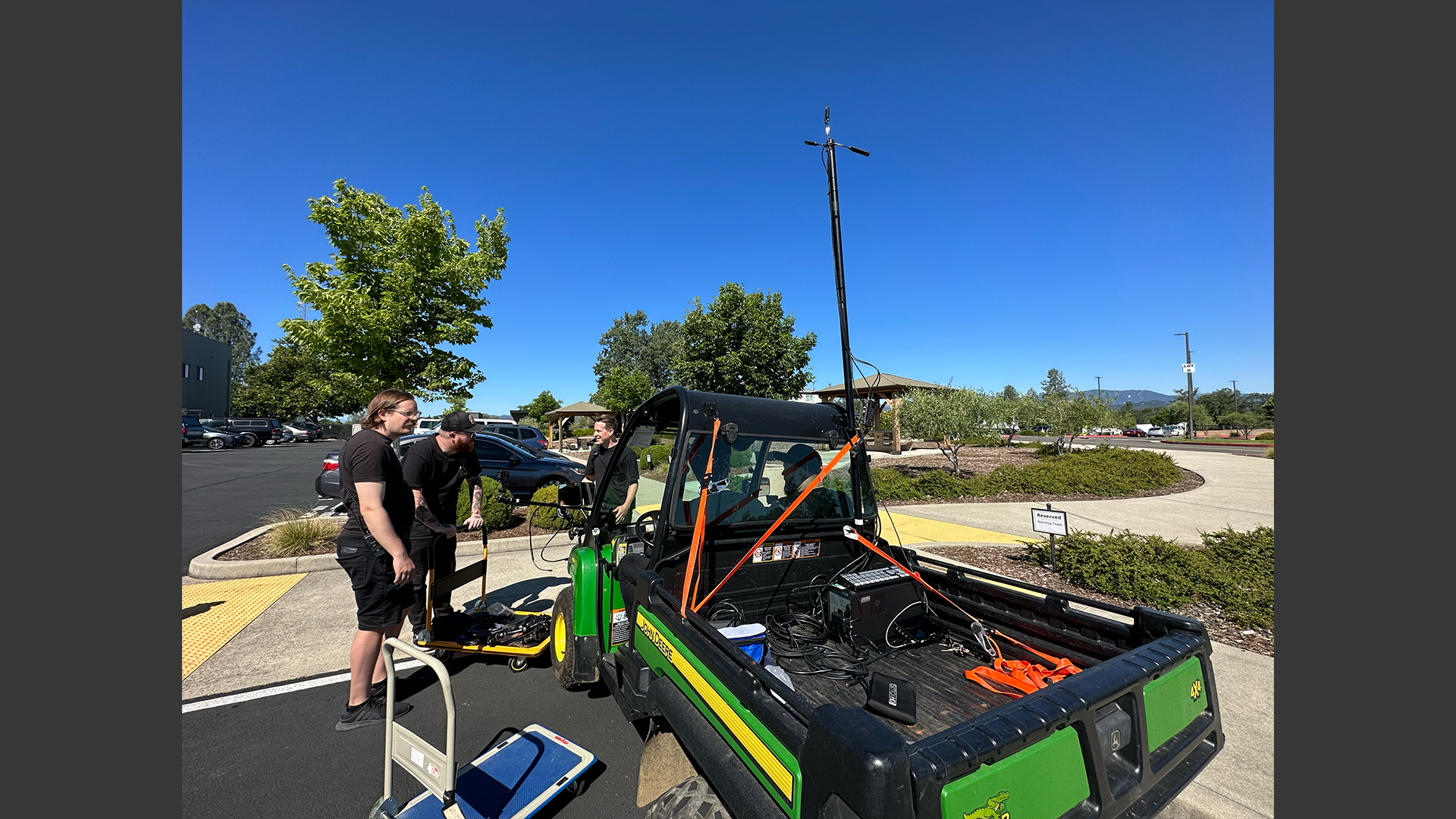 We achieved this by using GoPros with media mods mounted throughout the Gator and all feeding into an ATEM Mini Extreme in the back. We mounted Sennheiser shotgun mics on the roof that ran into a MixPre 3 and out of that into the ATEM Mini. We used the DJI Wireless Transmission system with the boosted antenna package, mounted on a large pole on top of the Gator, sending to a receiver that was mounted on a C-stand on the roof of our sanctuary. We spent many days testing all kinds of different settings on the DJI transmitter to find what could give us the most stable video and best range. We found that running it in Control Mode, as opposed to Broadcast Mode and in Manual, gave us the most reliable connection. This allowed us to pick the strongest channels rather than letting it decide for us. From the receiver, we ran a 500-foot fiber line over the building and down into our server room.
Day 2
After celebrating that this all worked perfectly, it was time to move it all to our on-campus workshop for day 2. The second day focused on the creative side of masculinity and therefore was set in a workshop. We let our lighting master, Nathan Cichosz, loose on this setup, and it turned out incredible. We used an Aputure Nova P300c as our key light in a book-light setup. As a hair light, we used an Aputure 300d, and to give a burst of color, we used an Aputure MT Pro for that blue tint. We also used an Aputure Accent B7c Bulb in a work light as a practical in the background. There was a skylight above which we blacked out with black cloth, and we also used negative fills to help control the light further. We used a Blackmagic Pocket 6k with a Sigma 18-35 Lens at a very shallow depth of field. For mics, we used Shure ULXD with sE V7 Capsules, and they ran into a MixPre 3 and then into the camera, which was sent over the fiber line to our control room.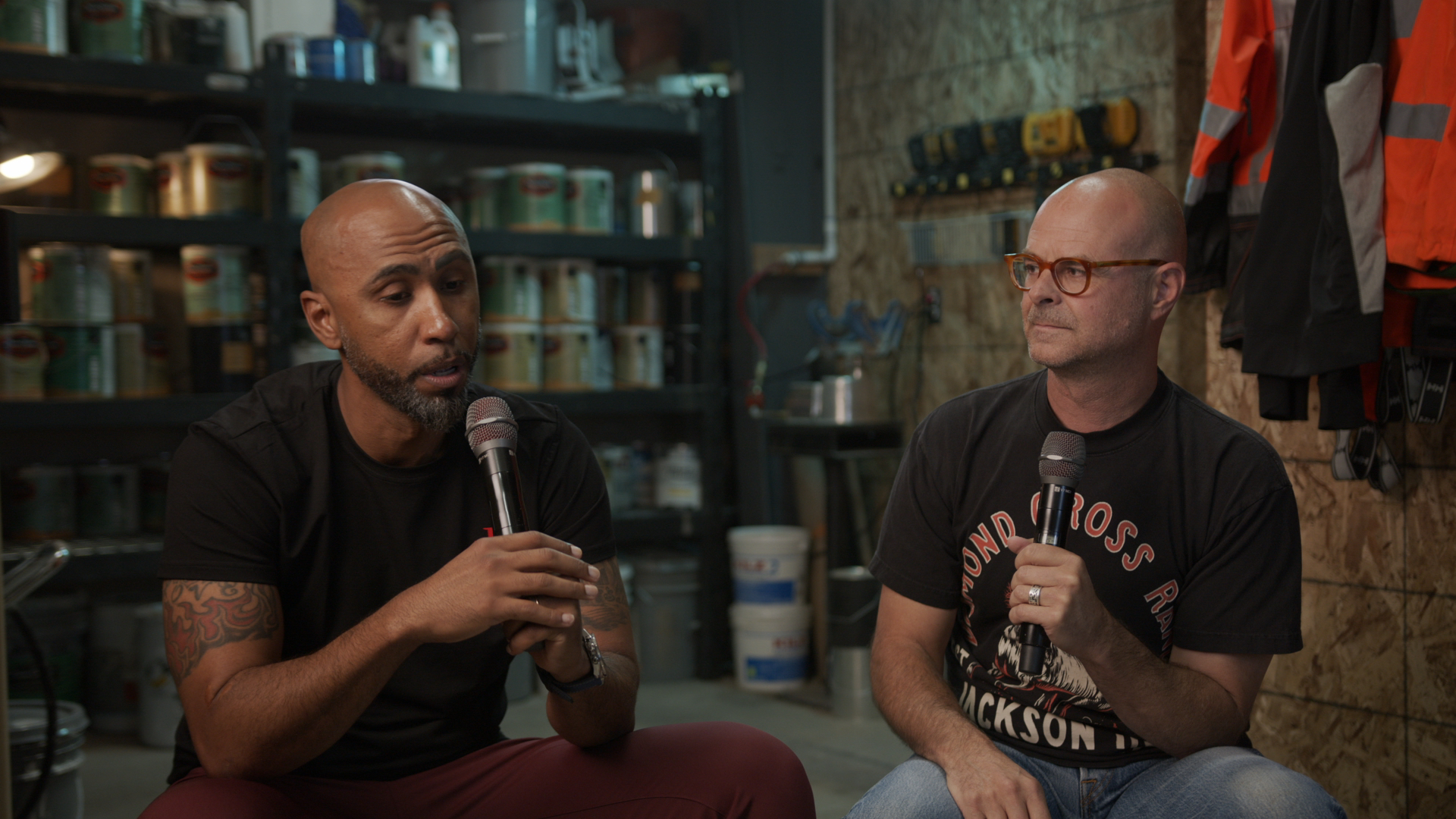 As this was an active workshop, we had to make our setup as mobile as possible so that the shop workers could carry on their jobs around our filming schedule. This was the first full day of the conference, so we had a total of 3 Online Connects in the day. After the stress of wireless problems from the day before, we were feeling a lot more relaxed during this day and were very proud of how it turned out.
Day 3
Day 3 was a woodland/farm setup. This setting symbolizes the concept of connection and vulnerability, where men come together to share their experiences, challenges, and successes. As we were outside, we wanted to utilize the sun as our key light, so by using a 12×12 diffusion positioned on movable C-stands, we were able to reposition it throughout the day as the sun moved. We also used some negative fills on the right side of the frame to block some of the reflections off the floor and to give some contrast to the subjects. The camera and audio setup were the same as the day before.
Looking back at this, I am so proud of our team for daring to try something new. There honestly was a large element of risk in this as there were a lot of elements that could have gone wrong, and we didn't have the budget to do anything the normal industry way. But that didn't deter our engineers. They worked tirelessly to make this all happen and to follow the vision of the conference and creative insight. When we step out of our comfort zones and take risks, we get to experience a unique side of Jesus where He is championing His children like a proud dad on the sideline of a soccer field. Like He is seeing the fruit He has always known we had inside us flowering and coming to life. A good Dad loves to see His kids coming alive in what they love to do, and during these crazy few days, our team came alive in a new way, and I believe this is just the beginning.
Conference Photos
BTS shots of the Crew